Hollywood Ancestry
'Top Gun: Maverick' Actor Glen Powell is Descended from the Warriors of Genghis Khan
Glen Powell, who plays air warrior 'Hangman' in the new Top Gun: Maverick, is descended from the ancient Tatar warriors of Genghis Khan.
Glen Powell as Hangman in 'Top Gun: Maverick' / Paramount Pictures
Actor Glen Powell's ancient ancestors fought on the backs of the fastest horses with Genghis Khan's army, and today Glen is fighting from the cockpit of some of the fastest jets in Top Gun: Maverick.
Glen Powell in a fighter jet as Hangman in Top Gun: Maverick / Paramount Pictures
DESCENDED FROM LIPKA TATARS
On his father's side, Glen Powell is descended from Lipka Tatars who immigrated to the U.S. in the early 1900s. The Lipka Tatars are a people whose ancestry goes back to the warriors of Genghis Khan around 1200 AD.
Glen Powell's patriarchal line. Glen goes by his matriarchal surname. / Chart by Mike Batie - Hollywood Ancestry
Let's look at their earliest origins from the days of Genghis Khan, how they ended up in Europe, and work our way down to Glen Powell's family in the US today.
The handy timeline below will keep you on track of where we are as we follow Powell's ancestors from past to present.
IN THE DAYS OF GENGHIS KHAN
As Genghis Khan expanded the Mongol Empire west toward Europe, Glen's Tatar ancestors in the vast Eurasian steppe were conquered and absorbed into his army.
Statue of Genghis Khan, 130 feet in height, in Mongolia. / Munkhzaya.E
The Tatars were trained to ride horses from early childhood, and by the time they were adults, they were fierce and unrelenting warriors on horseback for the Mongol Empire.
Artist depiction of Mongol cavalry. / Sayf al-Vâhidî
Glen Powell's Tatar warrior ancestors were feared by Europeans as they conquered principalities on the eastern edge of Europe and controlled the Silk Road, a lucrative ancient trade route that linked the Western world with the Middle East and Asia.
THE GOLDEN HORDE
The Mongol Empire eventually fractured, and the northwest portion was called the Golden Horde. Glen Powell's Tatar ancestors belonged to the Golden Horde, which was ruled by Ghengis Khan's grandsons. One of those grandsons converted to Islam in 1252, and many in the Golden Horde followed, although they also held onto elements of their shamanistic past.
Expansion of the Mongol Empire (red), and its later fraction, with the Golden Horde in yellow-green, where Glen Powell's Tatar ancestors came from. / Astrokey44
The Golden Horde conquered lands further west, including the Russian and Lithuanian principalities. By 1385, however, the Golden Horde was on the decline and had lost much of its power and lands.
LIPKA TATARS
In 1397, the Grand Duke of Lithuania, Vytautas the Great, was recognized by the Tatars as the rightful ruler of the lands the Golden Horde had once conquered. The Grand Duke admired the Tatars for their warrior skills and loyalty. He invited them to settle in his Lithuanian duchy (see map below) where they could work the land and practice Islam, in exchange for their military cavalry service. This group became known as the Lipka Tatars, from which actor Glen Powell is descended.
Lipka Tatars were invited to settle in the ancient Grand Duchy of Lithuania (shown laid over present-day borders). Glen Powell's Lipka Tatar ancestors settled in Belarus. / Map by Mike Batie - Hollywood Ancestry
Some regions of Poland and the Lithuanian duchy remained pagan into the 1400s, leading them to be attacked by Christian knights in a crusade. Poles, Lithuanians, and the Lipka Tatars came together to fight against the invading crusaders. Some 3,000 in the Muslim Lipka Tatar cavalry came to the defense of the religious freedom of the pagans with whom they resided.
Lipka Tatar Cavalry / Józef Brandt
The Lipka Tatars had the features of people from Central Asia but were heavily influenced by Eastern European culture. If Lipka Tatar men married European women, they often kept their Tatar first name but took on their wife's European surname. This is likely why Glen's patriarchal line has the surname 'Chutsky.' Interesting fact: Glen's character in the Netflix film Sand Castle was Sergeant Chutsky — the same surname of his patriarchal line.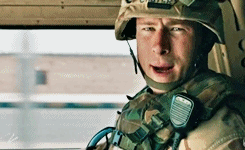 Glen Powell as Sergeant Chutsky in the movie 'Sand Castle.' His patriarchal line is surnamed Chutsky. / Netflix
As Europe Christianized and borders changed, Glen Powell's Lipka Tatar ancestors assimilated over centuries into much of eastern European culture. Their Kipchak language was replaced by Polish, Lithuanian, and Russian, although they did hold onto Arabic for religious practice and prayer.
Lipka Tatar cavalry after further modernization and assimilation in Eastern Europe. / Bronislaw Gembarzewski
By the 1700s the Lipka Tatars were firmly settled on farms and in cities in Poland, Lithuania, and Belarus. Glen Powell's Lipka Tatar ancestors lived in Minsk, Belarus. From the 1800s on, Russia occupied much of the lands the Lipka Tatars had settled centuries prior. A policy of Russification meant many of their mosques were destroyed and the history of the Lipka Tatars was re-written, destroyed, or removed from history.
A Lipka Tatar Mosque in Minsk, Belarus, in the early 1900s, where Glen Powell's ancestors lived.
Many Lipka Tatars were tanners and furriers by trade. This skill was highly sought after in the US and provided immediate work for Lipka Tatars seeking to immigrate to America in the early 1900s.
COMING TO AMERICA
Glen Powell's great grandfather, Samuel Chutsky, immigrated with his parents to the USA from a Lipka Tatar community in Minsk, Belarus. At age three, Samuel boarded a ship in Bremen, Germany, with his parents Mustapha Chutsky and Minnie Radlinsky. They arrived at port in New York City on 2 October 1908.
Glen Powell's Lipka Tatar ancestors, in the early 1900s, immigrated to America along this path, leaving their home in Minsk (present-day Belarus) and boarding a ship in Bremen, Germany, where they traveled to New York City and made their home in Queens for generations.
Living on Bowery Street in New York City, Samuel Chutsky lists "furrier" as his occupation on his declaration of intention to become a US citizen in 1925. Below is a copy of that record.
Glen Powell's great grandfather, Samuel Chutsky, filled out this Declaration of Intention to become a US citizen document in 1925.
The Chutskys were well established in Queens, New York for four generations, where there was a small but thriving Lipka Tatar community. Another famous actor whose family were Lipka Tatar immigrants is Charles Bronson.
Left: Grave headstone of Glen Powell's great grandfather, Samuel Chutsky, in Queens, New York. Right: His signature extracted from a document he signed.
Glen's grandfather, Stephen Chutsky, married Lillian Dziuba of New Jersey. She was the daughter of Catholic Polish immigrants, Joseph Dziuba and Sofia Maciag, who arrived in the US in 1906. According to the 1950 census, Joseph was a carpenter, and Sofia cleaned office buildings. Sofia is shown on a Hamburg passenger list where her last hometown in Poland is given as Zielonka, near Warsaw.
Glen Powell with his late grandmother, Lillian (Dziuba) Chutsky, who was of Polish descent, at the premiere of Glen's movie, 'Everybody Wants Some.' / Image via Glen Powell's Instagram
Glen Powell's parents — the lovely Glen and Cyndy — established their family in Austin, Texas where Glen was born and grew up a true Texas native, along with his sisters, Lauren, and singer-songwriter Leslie Powell. In an interview with Texas Monthly, Glen spoke about Texans being undeterred when things go wrong — of always getting back into the fight.
Glen Powell with his lovely parents and sister at the Screen Actors Guild Awards / Image via Glen Powell's Instagram
In addition to that Texas fighting spirit, Glen has also inherited the determination of his Lipka Tatar ancestors, whose indomitable spirit saw them go from a harsh life on the steppes of ancient Mongolia to the conquests of Genghis Khan's army; from the nomadic warrior life of the Golden Horde to the Lipka Tatar cavalry defending the Grand Duchy of Lithuania; from the immigrants to America and down to Glen's supersonic rise in Hollywood. If there is one thing you can say about Glen and his ancestors, it's that they are undaunted.
Glen Powell in 'Top Gun: Maverick' serving up a scene that recalls the volleyball scene in the first Top Gun film. / Paramount Pictures
That warrior spirit is still alive in Glen Powell today, and I'm sure you'll see it come alive in Top Gun: Maverick. Be sure to also check out his upcoming war film, Devotion, a true story of heroism and friendship that follows a pair of U.S. Navy fighter pilots who risked their lives during the Korean War to become some of the Navy's most celebrated wingmen.
Glen Powell as Jake 'Hangman' Seresin in 'Top Gun: Maverick' / Paramount Pictures
Follow Glenn Powell on his Instagram and IMDb page.
Note: I've researched Glen's mother's side of the family tree as well. Future article coming!
ABOUT THE AUTHOR
Storytelling binds generations. Films and family history are both powerful forms of storytelling that do just that. Family history research has been a passion of mine since I was a teenager. Having researched my own family tree extensively, I enjoy looking into the family trees of my favorite actors and entertainers. To see their roots and where they come from is always inspiring. I'm often left in awe of the experiences of their ancestors and how they connect to the present day. I hope to inspire others to research their own family trees and find out where they come from by sharing interesting insights from the family trees of notable figures.
—Mike Batie
Questions? Comments? Shoot me a message on the contact form on my About page.
Mike Batie
My social channels:
Hollywood Ancestry
Instagram
https://www.instagram.com/hollywoodancestry
Twitter
https://twitter.com/HWAncestry
Personal
Instagram
https://www.instagram.com/mikebatie
Twitter
Social Tags
#GlenPowell #TopGunMaverick #Hangman #TopGun #Maverick #HiddenFigures #JakeSeresin #ScreamQueens #Devotion #EverybodyWantsSome #Actor #HollywoodAncestry #Ethnicity #Ancestry #Ancestors #Genealogy #FamilyTree #FamilyHistory #AncestryDNA #Heritage #FamilyHistory #LipkaTatar #Tatar #GenghisKhan #MogolEmpire #GoldenHorde #Celebrity